Types of Blepharoplasty
Patients frequently present with the complaint that they look "tired". Often this is the result of excess skin and fat around the eyes. This can be corrected with an Upper and Lower Blepharoplasty. Blepharoplasty involves removal of skin and fat through incisions that are easily hidden. With an Upper Bleph, the incision is hidden in the Supratarsal Crease which is located 4-5 mm above the lash line. With an Asian Blepharoplasty, it is often necessary to create a supratarsal crease. With a Lower Bleph, the fat is either removed from within the eyelid (Transconjuctival Approach) or from an external approach (Subcilliary Approach). Extra skin from the lower eyelid is removed with a Subcilliary Incision. Laser tightening alone may be sufficient to correct minimal skin laxity of the lower lid.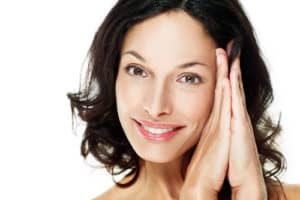 Post-operative side effects with eyelid surgery are minor and temporary. They include bruising, swelling and soreness in the treatment areas. Dr. Reagan can prescribe oral pain medication to manage any discomfort you may feel.
Potential risks and complications with eyelid surgery include poor wound healing, dry eye, eye irritation, blood clotting, infection, and excessive scarring. Prior to your surgery, Dr. Reagan will discuss with you all potential risks and complications, as well as what steps he takes to minimize their occurrence.
What is the cost of eyelid surgery?
Eyelid surgery is a highly individualized procedure, and thus the cost varies patient to patient. The cost of your eyelid surgery will depend on several factors including whether the upper eyelids or lower eyelids are being treated, the techniques used, and whether another procedure is incorporated into the operation. Generally, the more complex the treatment plan, the higher the cost. Our True Beauty team can provide detailed information about the cost of your procedure during your pre-op consultation.
Will my insurance cover the cost of eyelid surgery?
Your medical insurance may cover a portion or all of the cost of eyelid surgery if the procedure is deemed medical necessary. Eyelid surgery is considered to be medically necessary if it is performed to remove excess upper eyelid skin and fat that hangs below the lash line and interferes with the line of sight. Before covering the cost of upper eyelid surgery, insurance companies require proof of a visual test conducted by an eye doctor. Lower eyelid surgery is not covered by insurance.
Why is it important for a surgeon to take a conservative approach to blepharoplasty?
Because blepharoplasty is meant to last years, it is important that a surgeon be careful not to remove too much skin. If this happens, the resulting side effects may include dry eyes and difficulty completely closing the eyelids.
Dr. Reagan favors a conservative approach, removing an amount that is sufficient to give you a relaxed, optimistic look.
How do I choose between blepharoplasty and brow lift?
When the main concern is loose skin and an accumulation of fat in the upper and lower eyelids, blepharoplasty is often the best choice. If you are satisfied with the shape and placement of your eyebrow, blepharoplasty may be all you need.
Brow lift may be a better choice if your brow is within the eye socket or has lost its natural shape, or if you have a pocket of fat or loose skin that involves more than just the eyelid.
What are some of the other alternatives to blepharoplasty?
Dermal fillers are a popular alternative to blepharoplasty. Small injections of products such as Bellafill, Restylane, Juvederm or Perlane can improve the appearance of the skin around the eyes by smoothing out the skin.
Some patients may also benefit from an advanced technique in which fat from other areas of the body is used to add volume to facial features.
Fillers are an effective way to treat dark circles under the eyes, too. Loss of volume and thinning skin exposes blood vessels under the skin, giving the area a darker appearance. Injecting a dermal filler provides a cushion that compensates for the thinner skin and loss of fat.
Blood vessels and pigment can be directly targeted with laser treatment, as well. Laser is also very effective in treating so-called "crepey" skin under the eyes.
In some cases, Botox or Dysport can be a preferred way to relax muscles that are causing wrinkles and volume displacement near the eyes.
Schedule an Eyelid Surgery Consultation
To learn more about eyelid surgery, or the other facial rejuvenation procedures we offer, schedule a consultation. Contact True Beauty by calling (858) 454-SKIN (7546) or emailing our La Jolla practice today.