Mini Facelift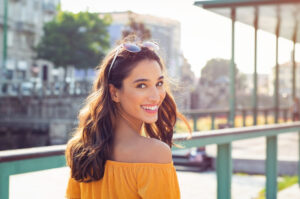 Mini facelift offers men and women with minimal loose skin and mild to moderate signs of aging a more youthful complexion. You may start to notice facial changes in your 30s with lines and wrinkles etching around your eyes, between your brows, and around your mouth. Fat deposits in your face shrink and sink lower and decrease skin elasticity, causing sagging skin and jowling. Mini facelift addresses these issues when they arise and is an excellent tough-up procedure for patients with previous facelift surgery.
Dr. Brian Reagan at True Beauty in La Jolla is a renowned plastic surgeon who is board certified by the American Board of Plastic Surgery. He has honed his surgical skills and techniques through years of training in some of the finest institutions in the United States and was named Top Plastic Surgeon West and Top Aesthetic Doctor in 2020.
QUICK SUMMARY
MINI FACELIFT
Purpose:
Minimize loose skin and signs of aging in the lower face
Procedure Length:
Less than 2 hours
Anesthesia:
Local anesthesia or IV sedation
Recovery Time
Back to work 1-2 weeks; strenuous activity 6 weeks
Final Appearance:
4-6 weeks
Duration of Results:
Approx. 5-10 years
Average Cost
$3,500-$8,000

*Individual patient results may vary. Examples presented are not to be interpreted as a promise or guarantee.
Mini facelift goes by many names, including the S-Lift, MACS lift, short scar facelift, limited incision facelift, and short incision facelift.
Am I A Candidate for Mini Facelift?
Dr. Reagan believes mini facelift is only appropriate in certain circumstances, such as patients with previous facelifts who want to tweak their results or people with minor concerns who are not ready for the traditional or deep plane facelift.
Mini facelift candidates are typically in their late 30s or early 40s with minimal signs of aging. They may have loose skin on their face but not on their neck. In general, candidates for mini facelift should be in good health and non-smokers with realistic expectations for their recovery and results.
Benefits of Mini Facelift
Mini facelift addresses lines and wrinkles near the mouth and chin and loose or sagging skin in the lower face around the chin. The procedure refreshes the lower face by removing excess skin and restoring jawline definition to minimize jowling.
The surgical technique for mini facelift is less invasive than traditional SMAS facelifts and deep plane facelifts, with fewer incisions and a faster recovery with natural-looking results. Mini facelift combines well with eyelid surgery or brow lift for more facial rejuvenation.
Mini Facelift Procedure
Dr. Reagan makes a small incision at the temples that continues down and around the ear. Another incision technique for mini facelift creates an s-shape at the temples or in front of the ear and does not reach behind the ear. Our plastic surgeon will recommend the incision style that will achieve the best results. Once the incisions are made, Dr. Reagan lifts the facial tissues, removes excess skin, and repositions the facial structures for a tighter, flatter facial shape. Dissolvable sutures hold the tissues in place and can improve incision lines for less visible scarring.
Mini Facelift Recovery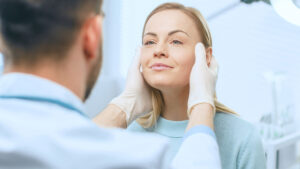 Mini facelift is an outpatient procedure, meaning you can return home the day of your surgery, but you will need someone to drive you home. You will have a follow-up appointment with Dr. Reagan the next day to unwrap facial bandages and examine your results. If necessary, sutures are removed one week after mini facelift.
Our La Jolla office will provide recovery instructions that outline what to expect and list complications to watch for while you heal. Patients who work remotely may resume working within a few days, but office workers must wait one to two weeks before returning to the office. Complete recovery may take up to six weeks, and you can manage discomfort with prescription pain medications from Dr. Reagan or over-the-counter pain relievers.
After mini facelift surgery, your skin may feel tight and tender for several weeks. Keep your head elevated and wash your face as directed by Dr. Reagan. Overall, mini facelift offers faster healing than the traditional approach, and incision lines lighten significantly over time.
Mini Facelift Results
Mini facelift provides a more youthful, energetic appearance that may last five to 10 years, depending on your lifestyle and skincare. You'll notice some improvements right away that improve throughout recovery.
If you're interested in mini facelift, schedule a consultation with our board-certified plastic surgeon in La Jolla, California. Contact True Beauty at (858) 454-7546.