Sculptra

San Diego & La Jolla, CA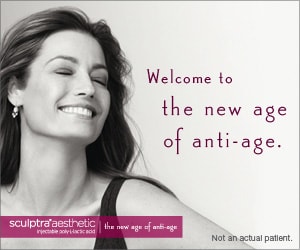 The loss of volume is one of the common effects of aging. Over time, your body produces less collagen, a protein that keeps your skin elastic and firm. Without collagen, the skin begins to droop, causing the facial features — particularly the cheeks, the area under the eyes and jawline — to appear sunken, hollow and aged. If this sounds familiar, True Beauty San Diego Aesthetic Surgery & Medicine can help. We are pleased to offer Sculptra, a long-lasting poly-l-lactic acid based filler designed to restore lost facial volume. Unlike other dermal fillers that merely minimize the appearance of facial aging signs, Sculptra goes one step further by addressing the underlying cause: loss of collagen. By replenishing the body's collagen supply, Sculptra produces longer-lasting results. While the results of other dermal fillers last several months to a year, the effects of Sculptra can last two years or more.
Learn more about the rejuvenating effects of Sculptra from the trusted True Beauty team.
Can You Benefit from Sculptra?
Sculptra may be right for you if you wish to restore facial volume in the following areas:
Mid-face region
Under the eyes
Cheeks
Temples
Jawline
In addition to restoring facial volume, Sculptra can be used to fill in wrinkles and lines, including nasolabial folds (also known as laugh lines or the lines that run from the nose to the corners of the mouth), and marionette lines (i.e., the lines framing the mouth). With Sculptra, your facial skin will appear fuller, smoother and more youthful.
Each treatment with True Beauty begins with an in-office consultation, during which a member of our expert team will meet with you to evaluate and discuss your aesthetic needs and concerns. We will also determine whether Sculptra is safe for you. If we determine you are a suitable candidate, we will design a treatment plan, including the injection point and the amount of dosage that will best achieve the desired outcome.
Treatment Details
To begin treatment, we may apply a topical anesthetic on the treatment area to minimize discomfort. Next, small amounts of filler are injected into the predetermined areas. Once injected, Sculptra triggers the growth of new collagen, restoring plump and full skin. Treatment with Sculptra can be completed in approximately 30 minutes, depending on the size and number of target areas.
Sculptra Post-Treatment
There is no downtime with Sculptra; you will be free to resume your normal activities right after treatment. However, exposure to the sun should be avoided for some time. Side effects are minor and include redness, tenderness and bruising. These side effects should subside within a few days of injection.
The results of Sculptra typically appear gradually and subtly. Most patients will need a series of several treatments to achieve the desired result. Results with Sculptra can last two years or longer.
Learn More about Sculptra
If you have lost noticeable facial volume over time or are bothered by the appearance of facial wrinkles or folds, True Beauty can help. To discuss your anti-aging goals and find out if Sculptra is right for you, contact us to schedule an appointment. Please call True Beauty at (858) 454-SKIN (7546) or send us an email today.
Call For Details.