Mid Facelift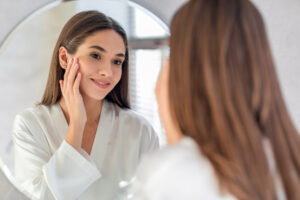 Mid-facelift focuses on sunken cheeks and hollowing under the eyes. Gravity and aging cause the fat deposits in your face to sag and lose volume, making the middle section of your face appear flat or hollow and accentuating nasolabial folds around the nose and mouth. These facial changes make you look tired and older than your given age. Mid-facelift elevates the fat pad in the cheek to restore volume and fullness to the under-eye and cheek areas.
Our board-certified plastic surgeon, Dr. Brian Reagan, is a renowned specialist with extensive training and experience. He has published articles and research in peer-reviewed medical journals on various aspects of plastic and reconstructive surgery, including wound healing and trauma. Dr. Reagan was named among the Best Plastic Surgeons in San Diego by his peers and has been honored by the American College of Surgeons.
QUICK SUMMARY
MID FACELIFT
Purpose:
Restore fullness to sagging cheeks and under-eye hollows
Anesthesia:
General or local anesthesia with IV sedation
Recovery Time
Back to work 7-10 days; strenuous activity 3 weeks
Final Appearance:
2-3 months
Duration of Results:
Approx. 10-15 years
Average Cost
$4,000-$10,000

*Individual patient results may vary. Examples presented are not to be interpreted as a promise or guarantee.
Am I A Candidate for Mid-Facelift?
The mid-face includes the facial tissues and structures from the corners of the eyes to the mouth. Mid-facelift is also called cheek lift and improves concerns in the cheeks, under the eyes, upper lip, and nose.
You may be a good candidate for mid-facelift if you have heaviness under your cheeks, under-eye hollows, or cosmetic concerns with the eye and cheek junction. Men and women with previous facial trauma or surgery may qualify for mid-facelift to address changes. You should have a positive outlook and be in good health.
Most patients unhappy with their current appearance can qualify for mid-facelift as long as they are non-smokers with realistic expectations and no medical conditions that can impair healing or increase surgical risks.
Benefits of Mid-Facelift
Mid-facelift elevates the malar fat pads in the cheeks that descend as you age, causing a sagging cheek appearance and visible changes in the under-eye area. The procedure uses minimal incisions to restore youthful cheekbones and a heart shape to the face. Other benefits of mid-facelift include:
Reduces nasolabial folds (laugh lines around the mouth)
Smooths deep marionette lines that stretch from the outer mouth corners down to the chin
Improves sunken appearance under the eyes
Restores prominent cheekbones
Improves facial symmetry
Creates harmony between the lower eyelid and the rest of the mid-face
Mid-Facelift Procedure
Dr. Reagan creates a small incision in the hairline at the temples and two small punctures on the cheeks to access the tissues and fat pad. A thin suture is inserted under the skin and through the top portion of the malar fat pad. Each fat pad is suspended with two sutures that gently lift and tighten until the tissue reaches the desired position. These sutures are secured at the incision site and connected to tough tissue called the temporal fascia to hold the fat pads in place. Another surgical approach uses an endoscopic camera to smooth and tighten facial muscles and reposition the fat pads with a suspension system.
Mid-facelift can be combined with brow lift or eyelid surgery to address sagging brows and drooping eyelids.
Mid-Facelift Recovery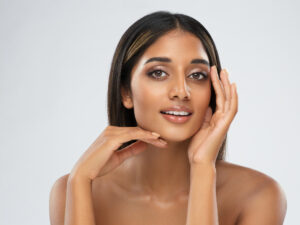 Mid-facelift involves a shorter and less involved recovery than traditional SMAS facelift or deep plane facelift. You can return home after your mid-facelift but need a loved one to drive you home. You will have some bruising and swelling that can be managed with ice for 24-48 hours after surgery. You can return to work after seven to 10 days but avoid strenuous activities and exercise for three weeks. Dr. Reagan will provide post-op recovery instructions after your mid-facelift and make sure you attend your follow-up appointments.
Mid-Facelift Results
You will notice fuller cheeks immediately after your mid-facelift, and it's normal for the cheeks to appear overcorrected at first. The tissues will settle into a more natural-looking position after two to three weeks. Full results from mid-facelift may take two to three months to finalize and can last a decade or longer with good skincare and sun protection. You can tweak or improve your results as you age with non-surgical treatments, such as injectables.
If you struggle with sunken cheeks and hollows under your eyes, schedule a consultation with Dr. Reagan to discuss mid-facelift. Contact True Beauty in La Jolla, California, at (858) 454-7546.