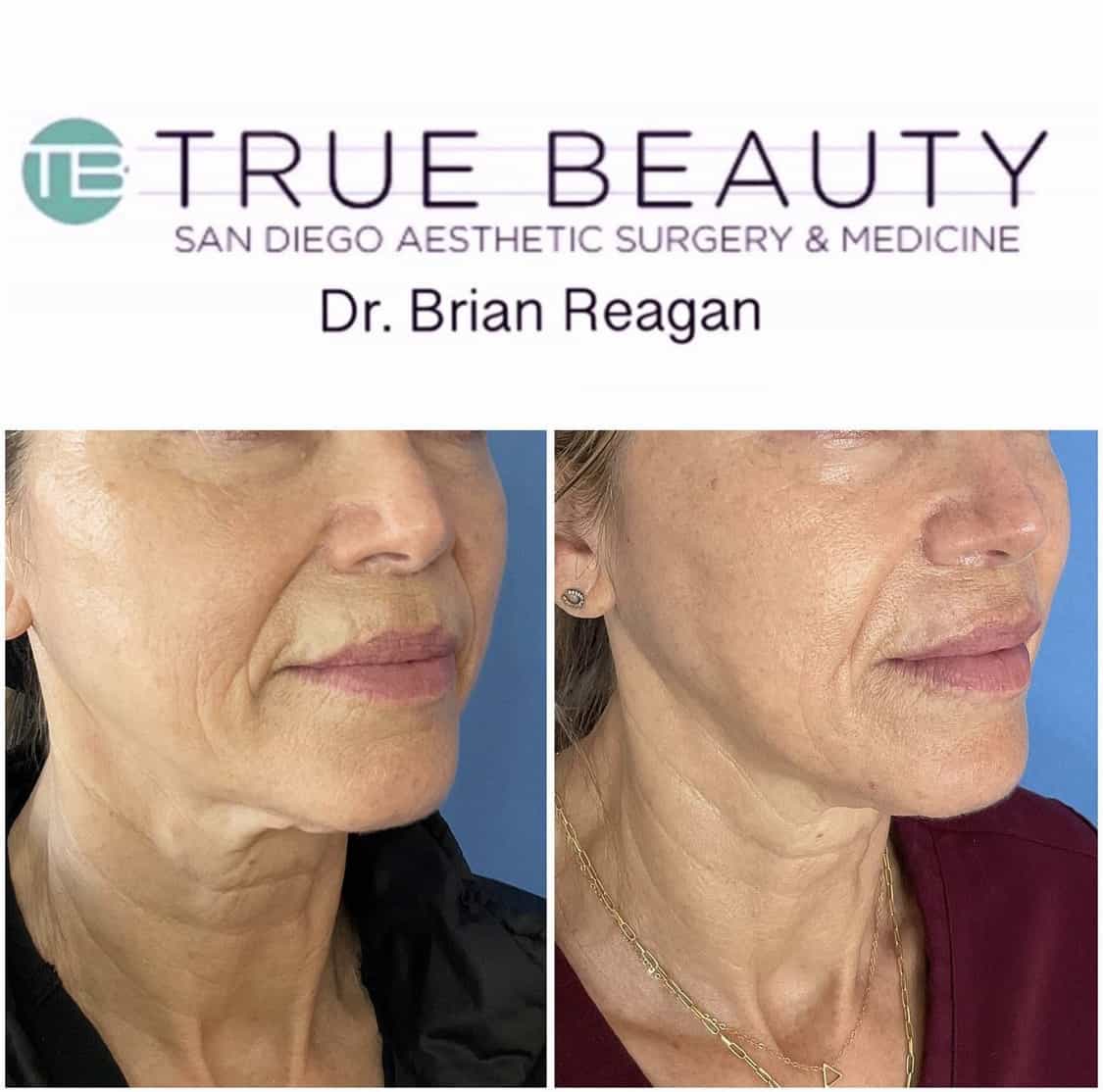 By True Beauty San Diego Aesthetic Surgery & Medicine on November 19th, 2022
Increased facial lines and wrinkles are a natural part of the aging process. Just because they are natural doesn't mean that we have to live with them.
Brian Reagan, M.D., F.A.C.S., is a board-certified plastic surgeon who offers a number of fantastic options to non-surgically reduce lines and wrinkles. Here, Dr. Reagan at True Beauty discusses five non-surgical ways to reduce lines and wrinkles.
1.    AccuTite
AccuTite utilizes radiofrequency energy to agitate subdermal layers of tissue, and in the process shrink pockets of fat and tone the skin while also stimulating collagen production. AccuTite is used to treat brows, eyelids, the chin and areas around the lips. While AccuTite is an effective, non-surgical option, it can also be combined with liposuction for more dramatic results.
2.    FaceTite
FaceTite uses the same radiofrequency technology as AccuTite. FaceTite deeply penetrates tissue to treat sagging skin and reduce fat deposits on the jowls, cheeks and neck. FaceTite can also be combined with liposuction as well as microneedling. Liposuction helps to eliminate fat while microneedling helps to stimulate collagen production.
3.    Morpheus8
Morpheus8 takes radiofrequency technology to another level by combining it with microneedling. Morpheus8 applies radiofrequency energy deep into the skin via tiny needles. The radiofrequency technology warms the targeted fat cells while the microneedles stimulate collagen production at each of the tiny punctures.
Over a series of three sessions, Morpheus8 reduces lines and wrinkles. It is also an effective treatment for other skin concerns including sunspots, acne scars and hyperpigmentation.
4.    Botox
Botox injections are FDA approved for the treatment of moderate to severe forehead lines, lateral canthal lines (crow's feet) and/or glabellar lines (frown lines). Botox relaxes facial muscles, causing lines and wrinkles to smooth. Botox can last up to six months and is often combined with other facial rejuvenation procedures to enhance results.
5.    Laser Skin Resurfacing
Laser skin resurfacing can remove years from the appearance of your face without the need for surgery. Dr. Reagan is proud to offer patients Fraxel laser treatments. The laser offers a number of benefits including smoothing skin tone and texture, tightening skin and softening lines and wrinkles. The laser can also address other skin concerns like age spots and sunspots.
Schedule a Consultation Today
If you would like to learn more about reducing lines and wrinkles, contact True Beauty to explore your non-surgical options. Schedule a consultation with Dr. Reagan by calling (858) 454-7546 or filling out our online contact form.