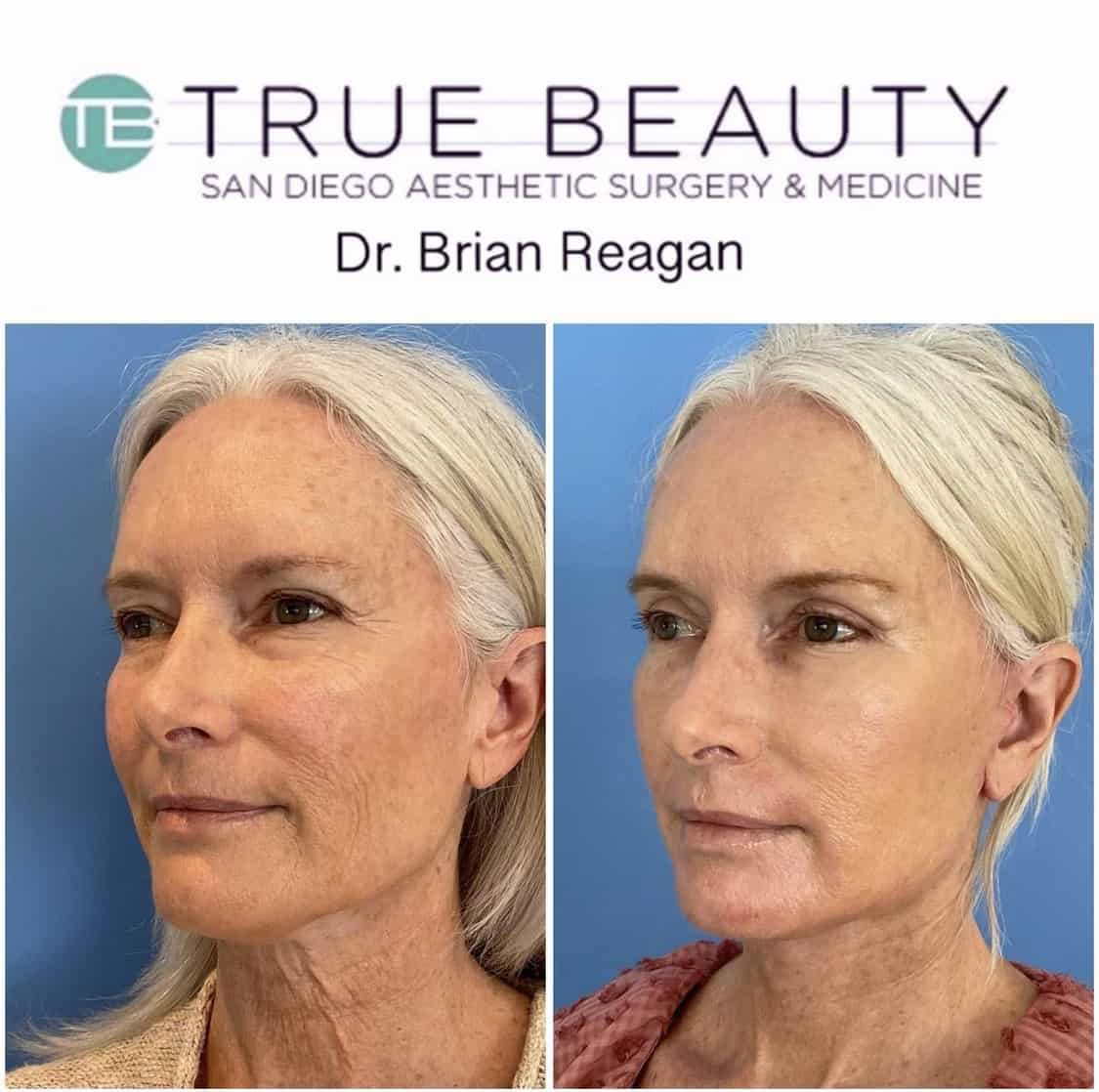 By True Beauty San Diego Aesthetic Surgery & Medicine on October 21st, 2022
Our face is the first thing that other people notice. It also tends to be the first part of our body that shows signs of aging. Over time, wrinkles may appear while facial volume and proportionality begin to fade.
If you have been looking for a way to combat the signs of aging and enhance your facial appearance, then facial rejuvenation may be an option for you.
Brian Reagan, M.D., F.A.C.S., is a board-certified plastic surgeon who offers a number of facial rejuvenation procedures, including both surgical and non-surgical methods, to help patients achieve a youthful complexion.
What Is Facial Rejuvenation?
Facial rejuvenation refers to procedures that help patients achieve a natural, more youthful appearance. This can be accomplished with one or multiple procedures combined. The procedures focus on lifting, tightening and filling out the face to reduce the appearance of wrinkles and restore its appearance.
Surgical Facial Rejuvenation Procedures That Restore a Youthful Complexion
Three of the most popular surgical facial rejuvenation procedures are facelift, brow lift and eyelid surgery. Facelift continues to be the gold standard in facial rejuvenation. During facelift, Dr. Reagan reduces sagging tissue and elevates the skin, creating a more youthful appearance. Brow lift lifts heavy brows to brighten the eyes, and eyelid surgery reduces wrinkles on the lids and in the surrounding areas.
Non-Surgical Facial Rejuvenation Procedures That Restore a Youthful Complexion
Surgery isn't your only option when it comes to facial rejuvenation procedures. Dr. Reagan offers a number of non-surgical facial rejuvenation procedures to help patients achieve a more youthful complexion. These options include Botox, dermal fillers, radiofrequency treatments and other skin-focused treatments. Many of these facial rejuvenation procedures can be combined to achieve the desired results.
Botox injections are one of the most popular non-surgical facial rejuvenation procedures. Botox is FDA approved for the treatment of moderate to severe forehead lines, lateral canthal lines (crow's feet) and/or glabellar lines (frown lines). Botox targets wrinkles on the face by relaxing specific facial muscles, which causes the overlying wrinkles to smooth. Botox results can last up to six months.
Dermal fillers work from the inside out to restore a youthful appearance. These facial injections increase volume and some stimulate the natural production of collagen.
Radiofrequency treatments include FaceTite, AccuTite and Morpheus8. These treatments shrink fat cells and tone skin while increasing collagen production.
Dr. Reagan offers a number of skin-focused treatments, including laser skin resurfacing, microdermabrasion and chemical peels. These treatments are designed to reveal a new, refreshed layer of skin.
Contact True Beauty in San Diego Today
If you're interested in facial rejuvenation, contact True Beauty in San Diego today. Schedule your consultation with Dr. Reagan by calling (858) 454-7546 or filling out our online contact form.