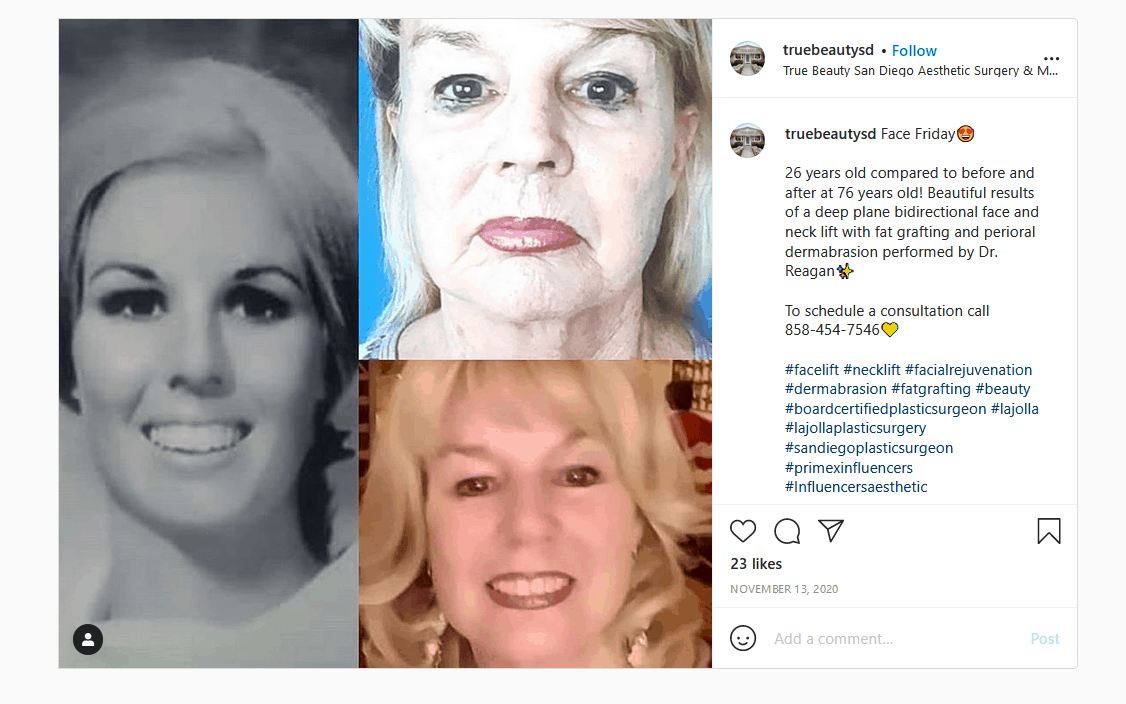 By True Beauty San Diego Aesthetic Surgery & Medicine on April 16th, 2021
As a standalone procedure, facelift is effective at minimizing signs of facial aging like creases and sagging skin. But for many patients, the most transformative results actually come from combining facelift with other surgical or non-surgical treatments. Respected plastic surgeon Brian Reagan often meets patients who express interest in a combination treatment plan.
Take a moment to learn more about treatments that best accentuate the results of facelift.
Blepharoplasty or Brow Lift
Facelift does not provide full face rejuvenation. Although it treats the middle and lower facial areas and the neck, it does not address the eyes or forehead. Since the natural aging process affects multiple areas of the face simultaneously, it is very common for patients to request facelift in conjunction with procedures that target the upper face.
Some of the most popular procedures performed in conjunction with facelift are blepharoplasty and brow lift. Blepharoplasty, or eyelid lift, rejuvenates droopy or puffy eyelids by removing excess tissue and skin and smoothing the remaining skin. Brow lift elevates low or heavy brows and reduces wrinkles across the forehead and in between the eyebrows.
Cosmetic Injectables
Another excellent way to accentuate the results of facelift is with cosmetic injectables. Botox and other neurotoxin products effectively smooth fine lines and smaller wrinkles around the eye area, and dermal fillers are useful for filling in larger facial folds and adding definition to areas of the face that need it (e.g., the jawline, lips, cheeks, temples).
Fat Transfer
If you like the idea of adding definition and volume to your face, fat transfer may appeal to you. Instead of using filler products, fat transfer enhances your features with your own fat. Unwanted fat is taken from another area of your body, purified and injected into areas of your face such as your lips, cheeks or temples. Fat transfer provides subtle plumpness and definition to turn back the clock.
Laser Skin Resurfacing
Treating facial aging both on the surface of the skin and underneath it delivers more transformative results. Laser resurfacing removes the top layer of damaged skin to improve the tone and texture of the facial skin. The treatment is particularly helpful for minimizing the appearance of pigmented or vascular imperfections such as age spots, sun damage and noticeable spider veins.
Contact Dr. Brian Reagan
To discuss your personal anti-aging goals with Dr. Reagan and develop a treatment plan tailored to your needs, please schedule a consultation today. You can reach out to our practice by phone or by sending us an email through our website.