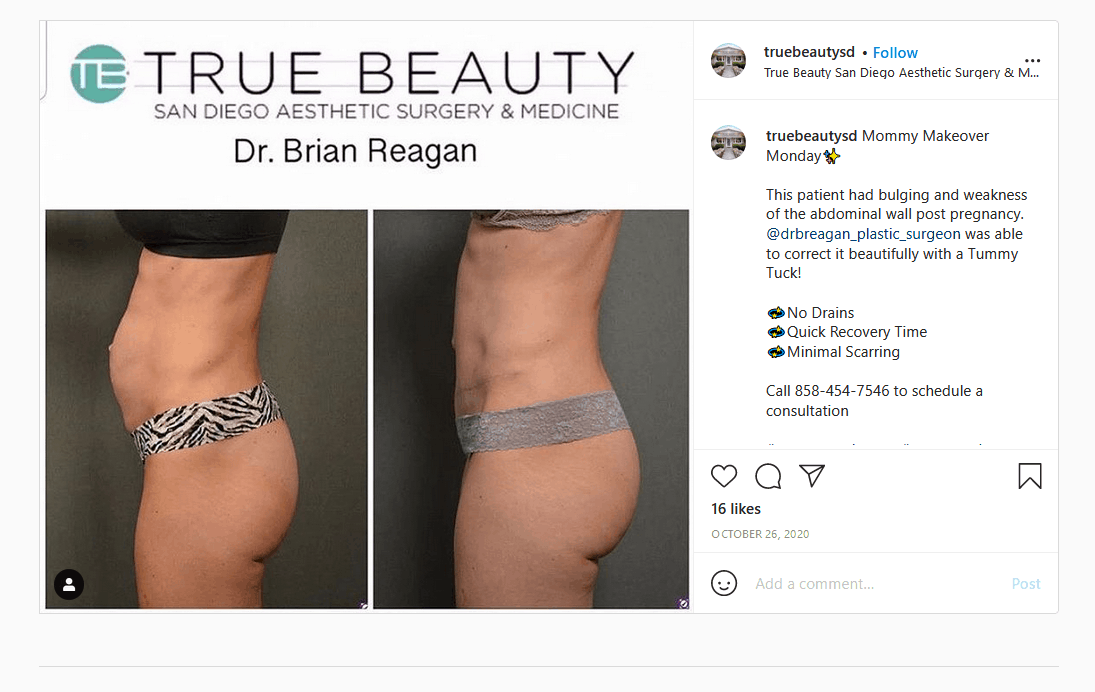 By True Beauty San Diego Aesthetic Surgery & Medicine on March 18th, 2021
Undergoing mommy makeover helps you reclaim confidence in your physical appearance after having children. By fixing problems like sagging skin, drooping breasts and weakened abdominal muscles, mommy makeover will minimize or erase the uncomfortable reminders of pregnancy and nursing.
Timing surgery correctly is vital, as it influences both the quality and longevity of your results. Read on as San Diego plastic surgeon Brian Reagan offers his thoughts on finding the optimal time to undergo surgery.
When Your Body Has Recovered From Pregnancy
Pregnancy, childbirth and breastfeeding are hard on a woman's body. You should delay your mommy makeover until you have allowed your body time to heal after having and nursing children. Doctors usually recommend waiting at least six months to a year after childbirth before scheduling mommy makeover.
You should be at, or close to, your target weight at the time of treatment planning to help Dr. Reagan plan the best results. Significantly fluctuating in weight after surgery will have an adverse effect on your results.
Also, plan to finish breastfeeding and allow your breasts time to return to their baseline or "new normal" before undergoing surgery.
When You Don't Plan To Have More Children
Dr. Reagan recommends delaying your mommy makeover until you are reasonably sure you will not become pregnant again in the future. Although mommy makeover does not affect the ability to conceive or have a healthy pregnancy, having another child after surgery will negatively affect your results. Your breast and abdominal skin will stretch out again and your breast shape can change. You may end up needing additional cosmetic surgery to address the changes brought on by another pregnancy.
When You Have Help With Childcare and Chores
Mommy makeover recovery requires plenty of rest. During the first few days after surgery, you will have little energy and limited range of motion. You won't be able to bend over or lift anything heavy. This makes it difficult to take care of your children on your own.
When planning your mommy makeover, make sure you will have an extra set of hands present at all times during your recovery to help with childcare as well as household chores.
Consult With Our Mommy Makeover Surgeon
If you believe the time is right for mommy makeover, make sure you select a qualified, board-certified plastic surgeon like Dr. Reagan. He would be happy to meet with you to discuss your aesthetic goals and develop a personalized treatment plan.
To request an appointment with Dr. Reagan, please call or email our office today.