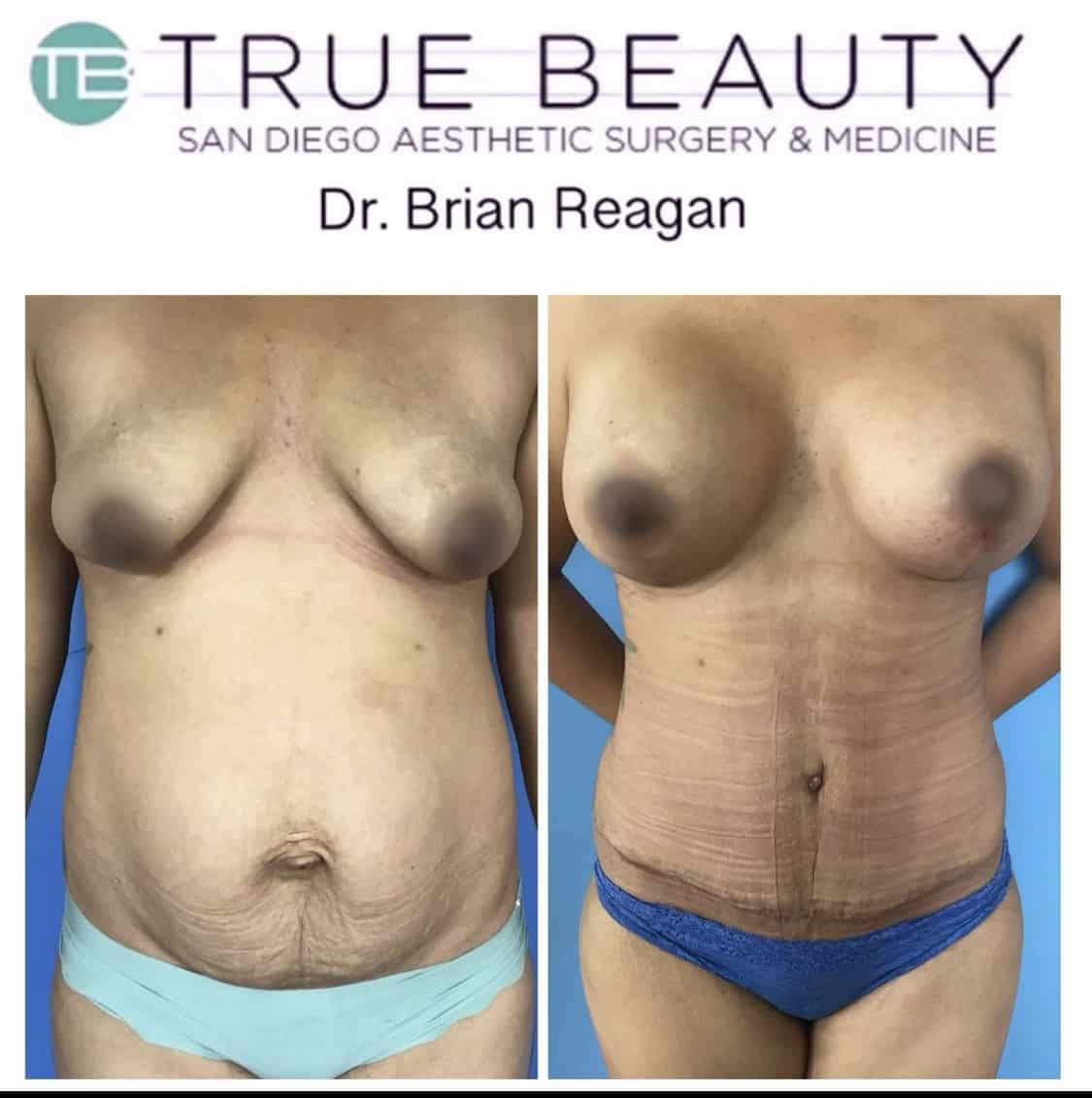 By True Beauty San Diego Aesthetic Surgery & Medicine on August 24th, 2022
It takes an immense amount of determination and self-control to lose a significant amount of weight. Many people who achieve this feat through diet and exercise or bariatric surgery find themselves with loose skin in one or more areas, and the only way to get rid of the excess tissue is through surgery. At True Beauty, our board-certified plastic surgeon offers various body contouring surgeries to eliminate loose skin, including tummy tuck, arm lift and thigh lift.
1. Tummy Tuck Eliminates Excess Abdominal Skin
Abdominoplasty, or tummy tuck, is one of the most popular plastic surgeries and is often done for patients who have lost weight or gone through pregnancy. The procedure surgically removes the loose skin tissue and residual fat pockets for a smoother, tauter figure. Tummy tuck tightens the abdominal wall and fixes diastasis recti which occurs when the vertical muscles that make up the "six-pack" stretch and separate. Diastasis recti is common in postpartum women, and correcting the issue can improve low back pain and urinary incontinence. Abdominoplasty can remove stretch marks from the lower abdomen.
2. Arm Lift (Brachioplasty) for Loose Upper Arm Skin
The upper arms are difficult to tone and are known for sagging skin caused by weight loss and natural aging. Brachioplasty, or arm lift, is a body contouring procedure that removes the hanging skin tissue from the upper arms for a more athletic, slimmer arm shape. Shapeless upper arms may affect clothing choices and cause people to shy away from activities that make them bare their upper arms.
Dr. Reagan will evaluate skin elasticity and fat deposits in the area and discuss your options during your consultation. Arm lift can be combined with a tummy tuck or body lift to tighten your overall figure.
3. Thigh Lift Gets Rid of Loose Skin in the Upper Legs
Massive weight loss through traditional or surgical means leaves behind noticeable areas of sagging skin in the lower body, especially the inner and outer thighs. The loose skin on the inner thighs may chafe or cause skin rashes and make walking and exercise uncomfortable. The thigh lift removes the excess tissue to re-sculpt the upper legs and tightens the underlying structures. Stubborn fat is removed with liposuction during a thigh lift to provide a smoother contour. Thigh lift may be done in conjunction with a lower body lift and combined with other body contouring procedures.
If you struggle with loose skin after weight loss, contact True Beauty to learn more about body contouring. Schedule a consultation with our board-certified plastic surgeon by calling (858) 454-7546 or filling out our online contact form.