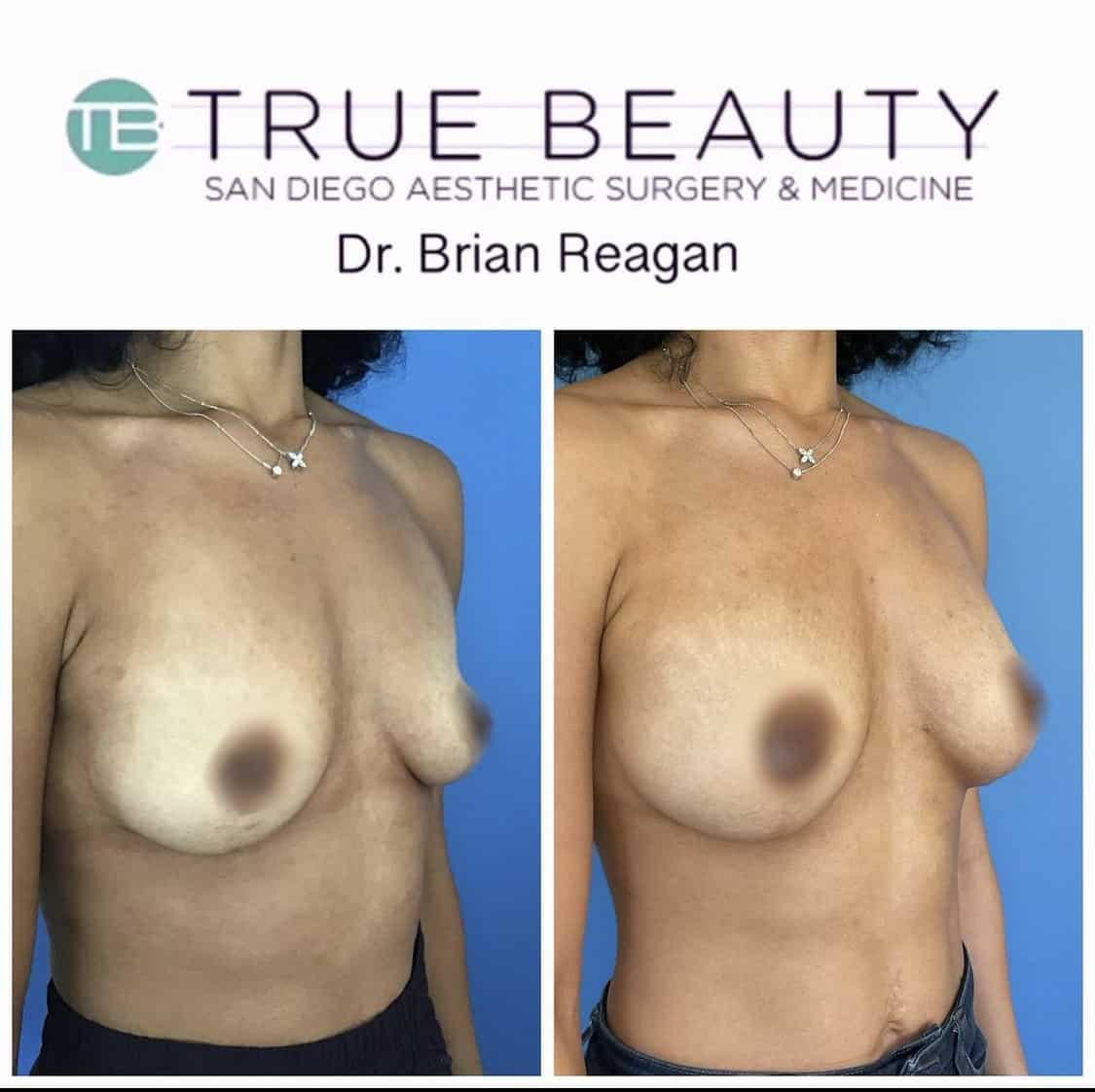 By True Beauty San Diego Aesthetic Surgery & Medicine on July 26th, 2022
Brian Reagan, M.D., F.A.C.S., is a board-certified plastic surgeon who has helped countless women achieve their ideal breast size with breast augmentation. Many of his patients have questions or concerns about nipple sensitivity or sensation changes after breast augmentation with breast implants. Luckily, nipple numbness and sensitivity changes are less common complications, and the issue often goes away after surgical recovery.
Will I Lose Nipple Sensitivity After Breast Augmentation?
Some women may experience oversensitivity, under sensitivity or numbness around their nipples after breast augmentation. However, these changes are typically temporary and may last only a couple of weeks. The risk of nipple sensitivity changes may depend on the surgical approach to placing the implants and the positioning of the implants. The larger the implant, the greater the possibility, but this complication is still quite rare.
Research Shows Nipple Changes are Rare (and often temporary)
A 2016 study analyzed the rate of nipple sensitivity, skin changes and lactation issues in female patients who had breast augmentation with form-stable silicone implants. The incidence of nipple sensation changes four weeks and six months after the procedure was 0.3 percent for women with implants placed with the inframammary incision (under the breast). Patients who had the periareolar incision (around the nipple) reported no nipple or skin changes.
The lactation issues reported were at the same rate as postpartum women without breast implants. Out of 4,621 patients, only 19 women experienced nipple sensation changes, and 47.4 percent of those cases resolved without treatment.
A 2021 study evaluated skin and nipple sensation changes based on implant placement with an inframammary incision. Subglandular placement involves implants placed in a pocket created behind the breast glands but on top of the pectoral muscle. Subfascial breast augmentation places the implants under the tissue covering the muscle, and sub-muscular breast augmentation puts the implant behind the muscle. Researchers found that patients with subfascial implants had a lower risk of nipple sensitivity changes compared to those with subglandular placement because the nerve supply was preserved.
The bottom line is long-term nipple changes after breast augmentation are extremely rare. Choosing an experienced, board-certified plastic surgeon is the best way to ensure excellent results and optimal safety. Dr. Reagan is a renowned specialist and has published articles and completed a research grant from the National Institutes of Health on wound healing and trauma. He has spent many years honing his surgical skills at some of the finest institutions in the country. Dr. Reagan was honored as Top Plastic Surgeon West and Top Aesthetic Doctor 2020 by Aesthetic Everything®.
If you're interested in breast augmentation, contact True Beauty in San Diego and La Jolla today. Schedule your consultation with Dr. Reagan by calling (858) 454-7546 or filling out our online contact form.